Introducing
Timespirals
Six powerful and beautiful timelines,
illustrating the 13.8 billion year story
of an Unfolding Universe,
in a unique spiral form!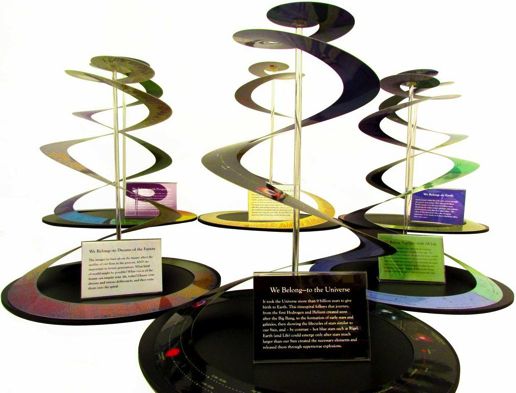 Science gives an awe- inspiring account
of how the universe came to be.
These spiral timelines capture the spirit of what it means
to Belong, INSIDE this story.
TimeTrace® timespirals enable you to grasp the enormity of the 13.8 billion year story of the universe, allowing you to comprehend the awesome scope of the events and processes necessary for you to be on planet Earth at this time!
I consider these timespirals one of the most important teaching tools for the 21st century classroom."
–Stephan Martin
College astronomy educator
Author of Cosmic Conversations
… These timespirals remind us that nothing can separate us from our belonging to the living body of Earth"
— Joanna Macy
Eco-philosopher and activist, scholar, author
Karen's passion is Belonging.  So she creates ways to put us in the CENTER:  in the Center of Time with spiral timelines, and in the Center of Place by weaving a Place-Based narrative into her presentations. The Center of Time is NOW and the Center of Place is HERE.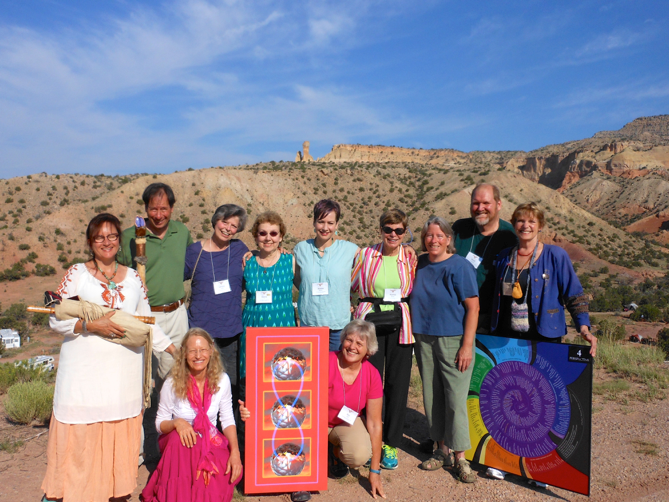 Everything is a Center in a Multi-centered Universe. Everything Belongs."
Karen's 20-plus years as policy planner for some of Colorado's progressive environmental programs honed her abilities to bridge the worlds of science/technology and commissions/legislative committees/the public. She presents western science/cosmology in ways that both western-trained and indigenous people can appreciate. Her artful visuals and creative presentations have been highly regarded by science and history teachers, progressive religious people, leaders in the Deep Time/Big History/Earth Literacy movements and have been introduced in classrooms from upper elementary through college level.
I have experienced several of Karen's presentations and always come away feeling connected, alive and full of hope.  Karen offers the critical insight of a well-respected researcher with the heart opening soulfulness of a gospel singer. I am always impressed by her ability to teach complex subjects in a simple and entertaining way…"
I don't know of anyone who has better integrated the Universe Story into the fabric of her being.  I am deeply affected by your aliveness and sense the fountain of Source flowing freely through you at all times.  You clearly explain scientific information that many of us feel unfamiliar with; we leave feeling it is friendly and part of our daily reality…"
— Elizabeth Comeaux
Administrative law judge (ret.)
Co-member of the Loretto Community